Our camel wool Cairo 4 comes to you in small 50-g skeins. It consists of 100 percent baby camel wool. With 16 colors ranging from undyed to rosewood and from navy to black, you are spoilt for choice! As a pretty little detail, the label is attached to the skein with a golden stitch marker.
The yarn feels incredibly soft and has a light sheen. With a yardage of 100m per 50g (109yds/1.75oz) it is a Light/DK weight yarn, and we recommend using US 6/4mm needles.
When winding the wool, you will notice how silky and soft Cairo 4 is. The thread glides smoothly through your fingers – that is if you wind the yarn by hand ;-) If you wind the yarn on a swift it will turn easily – nothing catches and the fibers don't stick together. A real pleasure!

When you start knitting you will notice the smoothness of the yarn, making casting on so much easier. The first row, which may be a bit fiddly to knit, especially with coarser yarns, is no problem with Cairo 4. The 4-ply twisted thread glides smoothly and evenly not only between your fingers but also through the stitches on the needle. Even though the yarn is very soft and loose, the individual threads hold together – they won't accidentally split as you knit, which sometimes happens with loose, soft yarns. It has a lovely and even stitch definition when knitted in stockinette stitch. The finished knitted fabric has a very light fleece, and you will notice the delicate shimmer of the wool.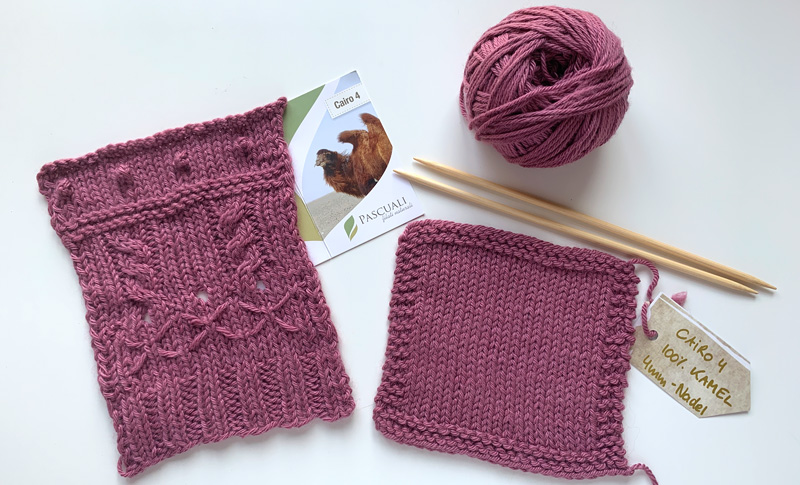 Cairo 4 is wonderful for all kinds of patterns, but its stitch definition in plain stockinette stitch is so lovely that you actually don't need any complicated stitches to create an amazing garment! If the stitches are too dominant, they could steal the show from the beautiful yarn.
The finished knitted fabric has a lovely drape!

After being carefully washed by hand, which is best for fine wool (see our last blog post WOOL CARE?), the stitches appear to fluff up a little. If the knitted fabric is carefully dried, lying flat and not pulled or stretched, it retains its original size. It does not "grow" either in width or in length.
Give yourself a treat and cast on a wonderful project with Cairo 4!