It is certainly no exaggeration to describe Atlantis as an absolutely noble yarn: with 70 percent cashmere wool from Mongolia and 30 percent mulberry silk from China, this yarn is a real luxury! Atlantis is available in small 25g balls. It is a fine, incredibly soft yarn with a magnificent sheen!  
A very smooth 12-ply yarn with a yardage of 116 m/25 g (0.88oz / 127yds),  Atlantis is a very fine (light) fingering yarn which despite its delicate appearance, is quite robust.  
Pascuali Atlantis is available in 12 different colours, ranging from neutral and delicate to strong and bright colours; there is definitely something for every taste! 
The recommended needle size for Atlantis is 2.5 mm/US 1-2. So, it is light enough to create a lovely, drapey garment, but not so thin that you can knit for hours and feel like you're not making any progress.  It also gives you the chance to create more intricate and often more impressive pieces. If you are not afraid of the effort, you will be rewarded with a beautiful stitch definition and a piece of garment with a wonderful drape!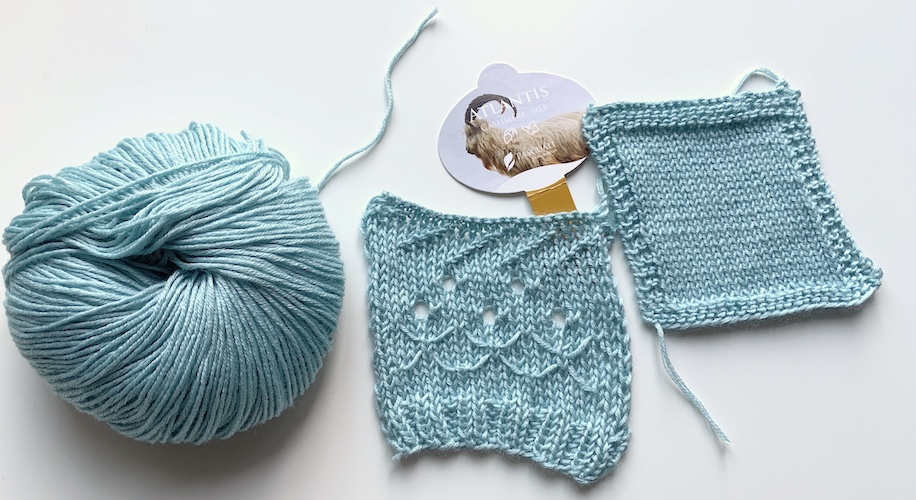 Our advice: Because Atlantis is so silky smooth, it is best to test which needles you feel the most comfortable with. If you find metal needles too "slippery", you might prefer bamboo or wooden ones which offer a slight grip that is perfect for keeping your stitches in place.  After all, the needles you chose to work with will have a significant influence on how much fun you have while knitting and they will also have an impact on the stitch definition - this of course applies basically to all yarns and it is really a matter of personal taste.   
Atlantis is wonderfully smooth to knit. It simply feels great between your fingers! Knitted in stockinette stitch, it looks very noble, but also with fine textured patterns it shows to its best effect. Due to its softness, it can be worn directly on the skin without any problems, even by people with sensitive skin and small children.   
Atlantis remains stable after washing (read more about caring for wool here): our swatches have retained their shape, height and width perfectly. The cashmere has bloomed through washing, so that a very fine fleece has appeared in addition to the delicate shine of the knitted fabric. Simply beautiful! 
Atlantis is perfect for light (yet warm) tops, shawls and scarves. Will you be knitting in a solid colour or perhaps in stripes? In stockinette stitch or with a delicate lace pattern? You have the choice - have fun knitting!