You will not always want to use the original yarn that is specified in a knitting or crochet pattern. There are many reasons for this - maybe the pattern is a bit older and the yarn is no longer available, or it may not be available in your country. Maybe you would prefer to buy locally, but your wool shop does not carry this brand. Maybe it's too expensive for you - or you just don't like it. So, you need a suitable alternative. In the following article, we would like to show you what you have to pay attention to so that your project can also become an absolute favourite with a yarn other than the original
How to find an alternative yarn for knitting or crocheting?
So, you've found a nice pattern, but you still need the right yarn to get started.
Your pattern provides you with all the information you need to start looking for a replacement yarn. Thick or thin yarn? Smooth or fluffy, or even an effect yarn? Coarse wool, delicate silk mohair or cotton? Photos of the model will, of course, give you a rough idea of ​​what you need.
Content
A Bit of Technique: Gauge, Yardage and Weight
Most probably there isn´t a single pattern that doesn´t come without a recommended gauge. In simplest terms, a gauge swatch is a small sample (4"x 4") of what your end product will look like. It tells you the required number of stitches per inch horizontally, and the number of rows per inch vertically. As already explained in our recent blog post about knitting according to pattern instructions, it is crucial to know the gauge because these measurements will determine the size of your finished project. In the case of scarves or shawls, this is not quite as dramatic, but a different swatch size to that of the original, will have an effect on yarn consumption. 
The yardage of the original yarn and the yarn weight are further indicators that will help you to find the perfect alternative.
In our online shop, you can sort and display the yarns according to these criteria, among other things. With just a few clicks you will find the perfect yarn for your project!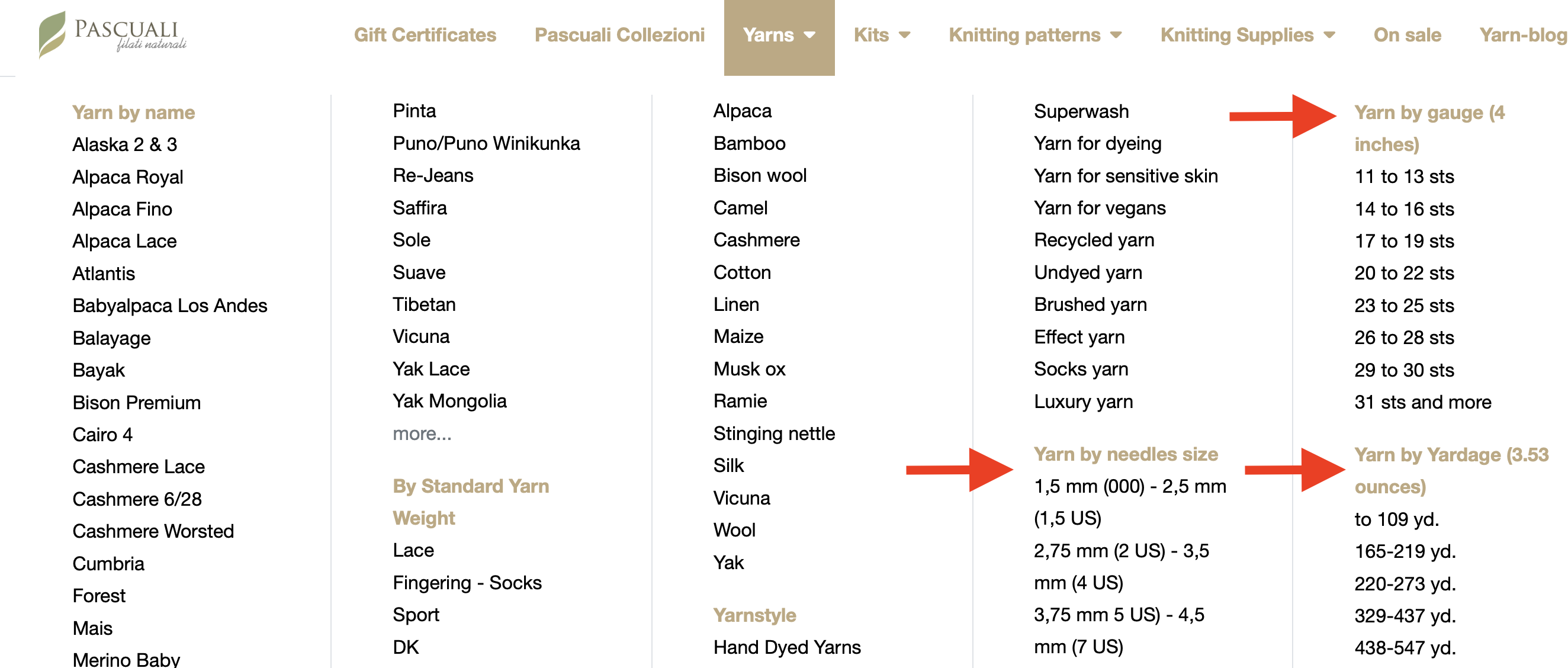 Knitting a Swatch
One of the criteria in the search for the perfect alternative yarn is the knitting gauge. This should be stated in the pattern and can be found on the labels of most yarns. The aim should be to get as close as possible to the gauge swatch recommended.  It is not too bad if the number of rows does not match perfectly. The number of stitches is really important because the width of a knitted piece cannot easily be changed afterwards - in the length, on the other hand, you have more leeway by adding or leaving out rows.
Found a Yarn with the Right Gauge? A Word of Warning!
Please knit a swatch before you cast on the stitches for your dream project. Yes, it can be annoying and it may slow you down a bit when what you actually want to do is get started, but it also avoids the frustration that will surely come over you when your new pullover or beautiful cardigan doesn't fit!
If your swatch deviates (slightly) from the required gauge, you can often compensate for it with the next higher or lower needle size.
Yarn Yardage

Yardage of the yarn can always be found on the yarn labels: It states how many yards of yarn are in the ball or on the hank, e.g. "50 g - 175 yds" or "175 yds / 50 g".
This information should also be given in the pattern for the original yarn used and thus offers the next criterion for finding a suitable alternative yarn. If you already have some knitting experience, it is usually immediately clear what you are dealing with, i.e. what yarn weight was used according to the yardage given. 
With yarns from the USA (and also with American patterns) you may come across the abbreviation "WPI". This stands for "wraps per inch". This is a unit of measurement that is given instead of the yardage: It measures how often the yarn can be wrapped around a pencil or knitting needle until it reaches an inch (= 2.54 cm). The WPI provides a rough guideline to the thickness of the yarn. Should you find only one WPI specification for a yarn, there are conversion tables on the Internet.
Yarn Weight – Category Names
The final technical criterion for searching for the perfect alternative yarn is the yarn thickness, which is described in certain terms. A yarn is assigned to a category depending on its yardage / WPI and the resulting yarn thickness. You are sure to have come across terms like "lace", "fingering" or "worsted" for different thin or thick yarns. Yarn weight ranges from super fine to super bulky. There are practical "rules of thumb" for replacing or exchanging yarns: A "Lace" yarn when used double stranded results in "fingering" weight, double stranded "sport" results in "DK," and double stranded "worsted" results in "chunky." Once you are familiar with these terms, completely new alternatives for replacing yarns open up. 
In addition, there is an international system of yarn counts that classifies them from 0 - 7 ("Lace" to "Jumbo").
Original Fibre Content Used in the Pattern
Regardless of all the math, the yardage, WPIs and swatches - a yarn is only a really good substitute if it also fits the knitted piece. Of course, you have to like a yarn first and foremost. However, you should keep in mind that the fibre you choose must also match that of the original design. If a pullover is originally knitted with light cashmere wool, the one you knit with pure cotton may disappoint you in the end because your version will be much more firm and heavier than the original one you liked. Replacing the sturdy cotton for potholders with delicate silk mohair, on the other hand, may not meet the purpose intended.
Whether the knitting yarn should be fluffy, rustic, smooth or vegan is ultimately a matter of taste. But we recommend using the fibre of the original yarn as a guide. While animal fibres such as sheep's wool, cashmere and yak can be exchanged with one another, classic cotton yarn has completely different fibre properties. It is much heavier and significantly less elastic than wool fibres. The gauge alone is not of much use in this case. Our advice: When choosing an alternative yarn, always use the fibre of the original as a guide.
We would also like to point out that animal welfare, environmental protection and fair trade are not just pretty buzzwords for us at Pascuali. We are committed to ensuring that our yarns are produced under the best possible conditions for everyone concerned. When choosing your yarns, please also pay attention to where they come from and how they were produced. That way, you can knit with a clear conscience!
Find Yarn Alternatives Online
If you have a favourite wool shop on site, you can of course browse there in search of yarn and get advice. If you don't have a "real" business within easy reach, look in the Internet. Good online shops not only sort their yarns by brand, but also offer - like us - the option of filtering yarns based on their "technical" properties. That makes the search much more convenient.
You can also take advantage of the great online knitting world.
Ravelry
When looking for patterns, inspiration and exchanging ideas with other knitters, Ravelry is a wonderful place to go. The use of this online platform is free, all you have to do is register. If you are looking for a yarn alternative to a pattern that is (also) available on Ravelry, it's very easy: On the page with the pattern there is the tab "Yarn Ideas" - if you click on it, you will see all the yarns that other knitters have used. You can then display these projects individually. Or you click on the "Projects" tab and browse around there.
Another option on Ravelry is to use the "Advanced Search" on the "Yarns" page to display all yarns that meet the requirements of the yarn you are looking for. You can filter by fibre content, yarn weight, swatch, needle size, etc.
YarnSub
Another possibility to look for alternatives for a certain yarn online is to go to YarnSub. Here you enter the name of the original yarn into the search field and within a few seconds you will be shown alternatives from the extensive database. The results can be filtered by fibre content, gauge, price, texture and much more. 
Finally, a  Little Bit of Math
You´ve found the perfect alternative yarn. You put it in the shopping basket and you're ready to go, right? No, not quite yet!
You certainly don't want to find out shortly before your new piece is finished that the amount of yarn you have left is not enough. Due to the different dye-lot colours, there is always the risk of not finding the exact same colour when having to buy more yarn after the fact - especially with hand-dyed yarns.
Because the yarn you have chosen as an alternative may have a different yardage or gauge to that of the original yarn used in the pattern, you should do some math beforehand.
We can best explain this with a small example (we will use meters for this):
You want to knit a pullover for which you would need 5 hanks of 100g each of the specified original yarn, each with a length of 360 m (= 1,800 m).
Since the gauge is the same, you have decided to knit it with Pascuali Balayage instead which is available in 50 g balls each with a length of 175 m.
The 1,800 m required for the pullover are now divided by Balayage yardage to calculate how many balls you need.
1,800: 175 = 10.3   So, 10 balls would simply not be enough. The reason for this is the different yardage of the yarns.
Sometimes, however, designers also indicate the exact amount needed for the individual sizes. In our example, that's 1,522 m - if you divide this by 175, you end up with 8.7 - so 9 balls! 
As you can see, it is definitely worth doing the math.
Please don´t forget to do a swatch, once you have decided on a yarn alternative!
We hope you enjoy browsing through our website and knitting!