We just finished knitting a Mystery KAL, so let's move on to the next round!
It wasn´t long ago that we knitted our last MKAL, the "Upside Down" shawl, by  Julia Hegenbart  of "Feinmotorik". Since so many of you took part and it was so much fun, we have decided to do a little knit along with you before Christmas. Will you be joining us this time around?
Jaqaru - Cowl and Hat
This time, we're going to knit a cowl and a hat in a great two-colour pattern. It is a set that might even make beautiful homemade Christmas presents.
Julia Hegenbart  of "Feinmotorik" agreed to once more work with us with this design. She named the set "Jaqaru" (pronounced Haq'aru), after a Peruvian language which is on the brink of extinction. And why did we choose to travel to Peru? Simply because the wool we chose for the Jaqaru set comes from Peru! It is our Alpaca Fino which we have used to design a beautiful jacquard pattern.
The cowl will be available in one size, but the hat will come in six different sizes so that it can be "made to measure" for every head circumference.
What should you put on your knitting shopping list?
For the set of cowl and hat you need:
Pascuali Alpaca Fino (100% Baby alpaca) (yarn length 50 g ~ 100 m | 1.76 oz ~ 109 yds)
in 2 Colours: 150 g ~ 300 m | 5.28 oz ~ 327yds per colour
Circular needles and DPNs 6 US | 8 UK (4.0 mm) (or needle size to obtain specified gauge) 
6 stitch markers, tapestry needle and scissors
Julia's original design is knitted in the colours 07 (Plate Grey) and 43 (Fir Green).
We have, of course, kits for the Knit Along in our shop now KIT JAQARU - we hope you like our colour combinations! Or, if you prefer you can put together your own combination with your favourite colours. 
If you´d rather knit with a yarn other than Alpaca, you can also use other yarns form the Pascuali range such as Cairo 4, made of camel wool, or Yak Mongolia, made of yak wool. Our Cashmere Worsted, which is now available in organic quality, would also be suitable for Jaqaru. And if you want to do without animal fibres, you can also knit the cowl and hat with a vegan yarn such as Re-Jeans.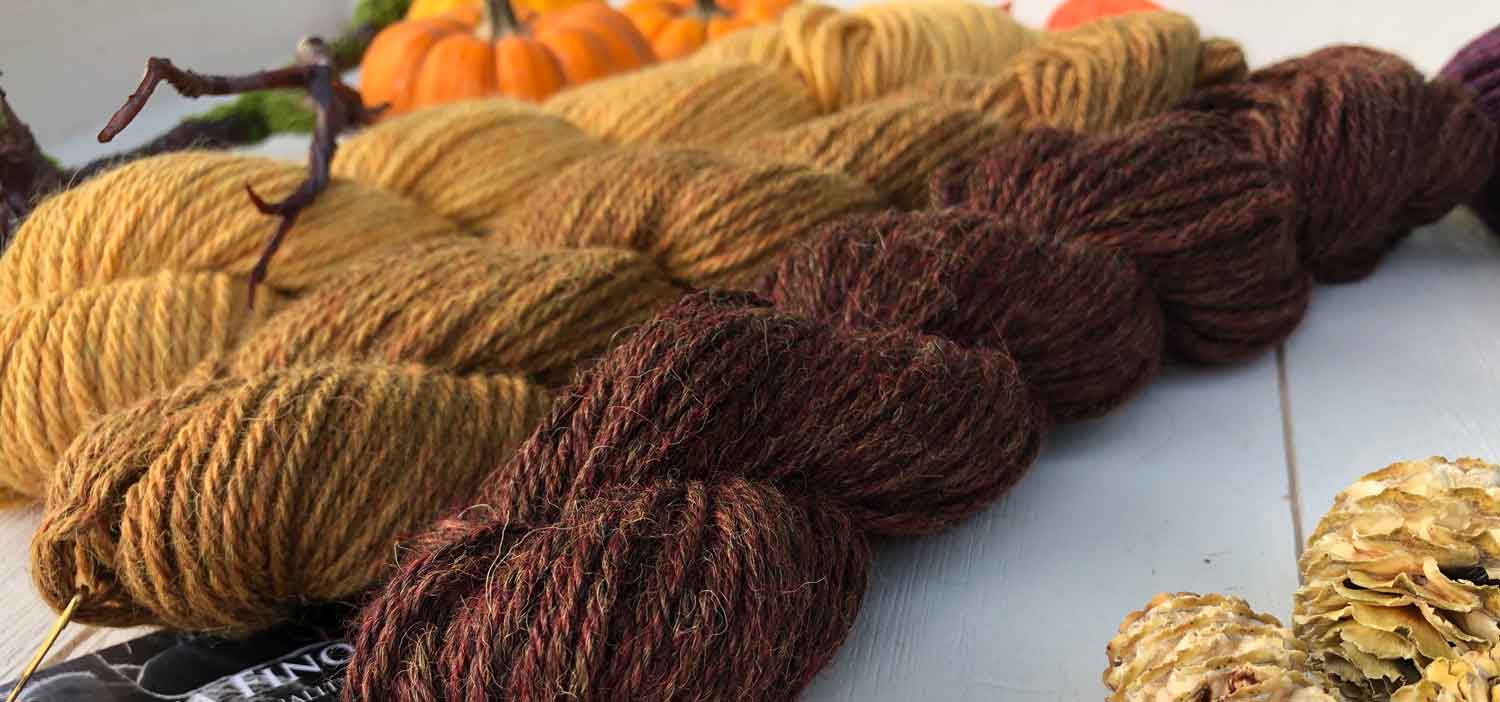 How well do you have to be able to knit - Is this also something for beginners?
First of all, you only have to be able to do knit and purl stitches. You certainly don't have to learn anything extra. Then there are different ways of doing decreases, but they only consist of knit and purl stitches.
Jaqaru is knit in a Jacquard or Fair Isle pattern. Don't worry, these are also nothing but knit stitches! To be able to knit Fair Isle smoothly, i.e. with two colours alternating within a round, you really only have to find out for yourself how to best hold the two strands of yarn. There are many video tutorials available online on how to hold the strands, and there are also special thimble finger rings that can be used to keep the strands at a distance and prevent them from getting tangled. It usually doesn't take long to get the hang of how to hold and guide the strands when knitting.
There are special finger thimbles or rings that help keep the yarns separate. In our shop, you will find two inexpensive versions of these little helpers:
There is a Spiral Ring with Two Eyelets that is put on the left index finger. The two yarns are guided individually and parallel over the finger and cannot get tangled.
If you knit Norwegian patterns or Fair Isle patterns with more than two colours at the same time, the Knitting Thimble with Four Yarn Guides is a good choice. It is also worn on the left index finger and helps to smoothly guide up to four yarns on the needles without knotting.
With or without a knitting thimble: The Fair Isle pattern from Jaqaru is also beginner-friendly!
When does it start? 
The fun starts on:
Friday, November 6th, 2020, with the publication of the 1st part of the knitting instructions for the cowl. 
Friday, November 13, 2020, part 2 of the instructions for the cowl follows. 
Friday, November 20, 2020, you will receive the knitting instructions for the hat.
The grand finale will take place on the following Friday, November 27th, 2020, when we will be showing our beautiful Jaqaru sets.
How do you get the pattern?
As with the last Mystery Knit Along, Julia will publish the latest instructions on her Ravelry shop on Friday mornings at 6:00 a.m. You can simply download it for free.
If you want it to be even easier and you definitely don't want to miss out any part of the pattern, simply subscribe to our newsletter:
Register here and all three parts of the pattern will land directly in your inbox!
Knitting together virtually – Join us!
Knitting together is great! With today´s distancing rules, "real" knitting meetings are currently impossible, but we can also knit together virtually and have fun. With Facebook, Ravelry and Instagram, we have three platforms on which we can meet online.
If you knit with one of our yarns, we would be happy if you included your photos in our Facebook group Strick mit! ...Pascuali posts. And, of course, you can also ask questions, chat, make comments, etc.
Create a project for your Jaqaru set on Ravelry and link it to the design. Come to the Ravelry group "Designs by Feinmotorik" to show your progress in the forum and to exchange ideas about Jaqaru.
Please use the hashtag #jaqaruKAL on Instagram and give us a click on the photo and on the text at  @pascuali_filati_naturali and Julia @ feinmotorik.blogspot so that we can find you too.
So, who´s joining us?
We look forward to seeing you!
Your Pascuali Team