Joining us in this interview blog is a very special guest: Danish designer Karen Noe. 
Karen has been a key figure in Danish knitwear design for many years. Her designs are based on the motto "Nature and Beauty". This motto goes perfectly well with our high-quality natural yarns.  Yarn bundles for several of Karen´s designs are now available in our shop.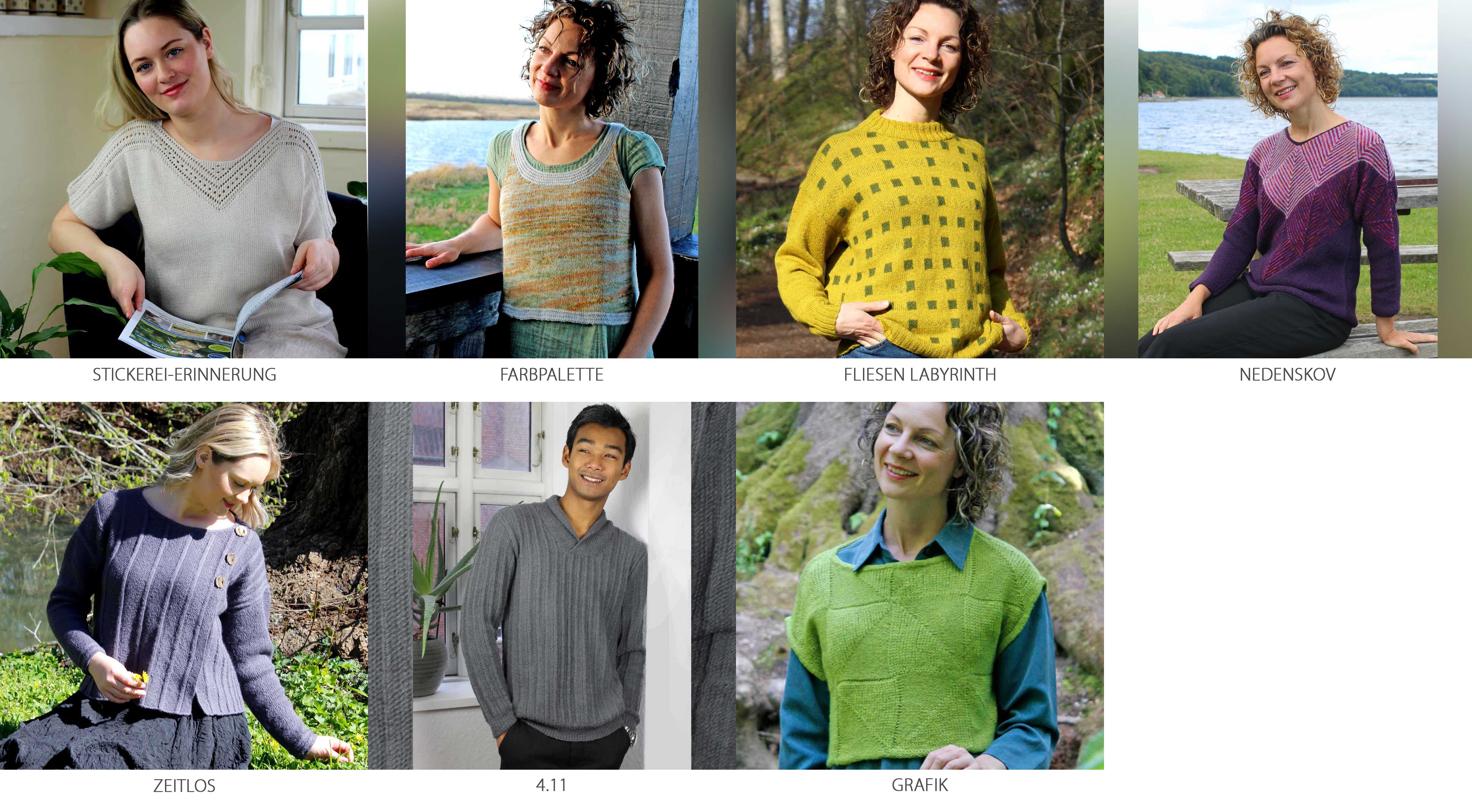 In this interview, Karen lets us take a look behind the scenes and talks to us about her designs. 
So nice to have you with us Karen! Thank you for taking the time to answer a few questions!  
Please tell us how you became interested in knitting and who taught you. 
I think my mom and grandmother gave me the interest and foundation of all needlework. I didn't knit as a child, but I always drew and wore bright colours. In doing so, I developed a good imagination. When I was about 10 years old, an uncle who lived in the US came to visit us in Denmark for Christmas. He wanted a pair of hand-knitted socks, and in return he offered to give me a doll in a pink silk dress that could say "Mama". I actually started knitting the socks, but my mother finished knitting them for me. In the end, I got the doll, and it was prettier than anything I had ever seen before! 
Do you remember what your first finished piece of knitting was? 
I was around 15 years old at the time, and my first piece of knitting was a coral-coloured sweater following a pattern by Hjertegarn. 
It took me a while before I really took on knitting. 
In Denmark, there are community schools for adults where you can learn a craft, for example. As a young adult, I learned more about textile handcrafts there. 
You are a trained graphic designer - how did you finally become a knitting designer? 
I always knew I wanted to draw. I drew before I could speak and my mother got drawings that showed my experience and progress. My parents suggested an education that would allow me to make a living for myself. 
Actually, I would have preferred to become a fashion designer, which I found much more exciting, but it was more difficult to find jobs in that area. 
Despite that, advertising wasn't at all boring. I had exciting jobs with wallpaper patterns, tablecloth patterns and decorations for porcelain. I designed the motifs and made the final artwork. 
Before I began knitting design, I got involved in the world of weaving. My aunt asked if I would like my grandma's old loom, which was made in Denmark by the Lervad company. My grandmother was my role model, she carded wool, twisted, wove, knitted and embroidered. My parents were into agriculture, and so were my grandparents. My siblings and I got to see our grandparents every day because we lived just one field road away. We were always able to gain new experiences there. 
In your opinion, how has the meaning of handcrafts changed in our world? 
Since we didn't have the options for the blends and colours that are available today, we didn't see craftsmanship as something unique back then. But now, it's like our eyes have opened to it. Nowadays, a knitted piece in a beautiful colour or yarn is something many people would like to have. 
We don't want to stand out from the crowd. Some have become "first movers", and it's infectious and engaging, while others hesitate. Overall, however, we have become bolder in terms of patterns, colour composition and yarn production. I think that's great! I also have the feeling that COVID has made more people pick up on handcrafts and, in particular, have started knitting. 
Our world has also gotten smaller. We see how people in other cultures work with beautiful craftsmanship, and we take home ideas from all over the world and experiment with new materials and techniques like never before. 
Scandinavian fashion is often rather reserved in terms of colours. Your designs are often bright and colourful. Where does your preference for colours come from? 
From my time as a graphic designer. I don't have a favourite colour, but I have an eye for the interplay of colours with one another. For the patterns, I choose colours that look good in photos and colours that customers would often not choose themselves. Maybe because the Danes' favourite colour is blue - sorry, I'm generalizing. 
Since my yarn supply is full of beautiful yarns and colours, it is important for me to display them nicely. 
At the same time, I keep an eye for what colours are in fashion, and then I have to have the full range, as the yarn has to be available for purchase for several years. 
Most people in the northern hemisphere are fair skinned and don't get suntanned as much as those living in the south. We like to wear muted colours that match our looks. However, if someone dresses in black or beige in order to be discreet and not attract attention, then I think that's a shame. 
Your style is very diverse. There are classic, timeless patterns and more unusual designs. And you design clothing and accessories for women, men and children. Where do you get your inspiration for such a variety of designs? 
From thousands of places. I save impressions from my surroundings, from exciting yarns and very often from a shape that I've seen and then create a pattern based on the colours and shapes that I have in my head. I translate these thoughts into the yarn and pattern that I think will go together perfectly. It must come from my time as a graphic designer, I think.  
How does your design process work and which step in the design process do you find particularly difficult? 
I always start at the drawing board because I think the shape is important. Next, I choose the yarn and knitting technique. Then, I create the description for a knitter who will also receive a drawing or full-size canvas model, and also a knitting sample so that knitting consistency can be observed. 
Everything is then sent to my experienced knitters - and we talk on the go, because there are often details that have to be discussed before the pattern is the way I would like it to be. The most difficult thing for me are the instructions, which should preferably be written in 3 to 5 sizes: It is so easy to miscalculate - or to explain incomprehensibly. Therefore, at the end of the day, every pattern is sent to a knitter who is particularly well versed in this work. 
Developing a design, writing and editing the pattern, taking care of photos, posting the designs in the shop, marketing on social media - there is a lot of work involved in every design. Do you have a team around you that supports you, or do you do everything yourself? 
I'm constantly evolving as a designer; It's my hobby. The knitters have to take notes along the way as they knit, and I am happy when it is done thoroughly.  
At the end of the day, a knitter who is good at finding mistakes and who is good at dealing with numbers receives instructions on how to correct them. She makes sure that there are (hopefully) no errors and that the patterns are available in 3 to 5 sizes. She is a really numbers-obsessed person; she makes sure that all the numbers for the respective sizes are correct. 
I take the photos myself. I use my sweet grandchildren, great-grandchildren and my young friends as models. As far as marketing, I provide the texts and images and I leave the rest to the experts. I feel good about this collaboration. It's impossible to do everything yourself. A big thank you to everyone who helps me! 
Nobody can fool you when it comes to yarns and fibres. What do you particularly value when choosing a yarn for your designs? 
It is not always easy to tell the difference between synthetic yarns and those that are not, or yarns that are organic and those that are not. I believe I could be deceived. But I'm sure the companies I buy from only have top quality goods, so I don't have to be nervous. Often you only notice the difference in yarn when you knit, wash your work or wear it on your body. 
Tell us about your collaboration with Pascuali and the new patterns with Balayage and Cumbria? 
A few years ago, I received a few shade cards along with information about this new company, Pascuali. 
Paul, the owner of the company, is very knowledgeable about both yarn and marketing. I needed a good classic wool for knitting needles 3 or 3.5, and that's exactly what I found at Pascuali. Also, many knitters today value very soft yarn, and that is exactly what I found in the Pascuali range. 
I had also been looking for a classic summer yarn for a long time, or yarn for knitters who cannot tolerate wool. And a mix of cotton and bamboo like Cumbria was very appealing because the knitted garments kept their shape. 
For me, Pascuali's quality yarn is inspiring and I enjoy working with it. The joy of doing it makes it easier to design patterns and immerse myself in the process.  I have a lot of ideas stored in my brain. But it is also nice to have a close collaboration with our neighbouring country Germany; we do not differ so much in terms of "tastes". Experienced knitters want quality today, and they get it with Pascuali yarns. I hope and believe that my pattern designs do justice to the quality of the yarn. 
Finally, a personal question: Is there something you like to do when you are not knitting? A hobby maybe? 
My 4 sons and their families are everything to me. We visit each other often. And I can talk to them about my ideas and thoughts. They support me in the best way that you can imagine. 
I enjoy it when my grandchildren - and great-grandchildren - come and am happy that they also like to pose as models for my photos. That makes me very proud. 
Every day, I go for a walk in the garden, maybe remove weed or pick black currants. I can also sit down with a good book, but usually I leave that for the evenings. I enjoy reading at night.  I love classical music - I've been to the Copenhagen Opera House and elsewhere. 
I love to travel and experience other cultures. My next stop is Bali - as soon as Corona allows it. I would like to see and try out Bali's handcrafts. I hope I get to do so. 
Thank you, Karen, for your time! We hope that we can meet again in person soon and exchange ideas about your designs.