At Pascuali, we stand for high-quality natural yarns. By this, we mean natural fibres of animal or vegetable origin, which all have one thing in common: They are free from synthetic fibres. In other words, they are plastic-free.
In addition to our commitment to producing these yarns in the most environmentally friendly, sustainable and fair manner possible, abstaining from using synthetic fibres and plastics is another component of our corporate philosophy. Incidentally, this applies not only to our products, but to our supply chain, packaging, shipping and our office equipment!
What Are Synthetic Fibres?
Synthetic fibres, especially polyacrylic and polyamide, ensure more durability and shape stability in the yarn and make the knitted piece easier to care for. However, like most plastics, this raw material is based on crude oil, a fossil raw material that is not endlessly available.
When washing fabrics containing synthetic fibres, the smallest particles can detach from the knitted fabric and end up in the water in the form of microplastics.
In addition, synthetic fibres are only biodegradable to a very limited extent.
It is for all of these reasons that we have chosen to rely and focus on natural yarns.
Vegan Yarns 
Part of our range of products is vegan - so it consists exclusively of plant-based yarns. Plant fibres form part of an old tradition. Vegetable fibres such as hemp, linen or nettle which were commonly used in the production of yarns has been replaced in modern times by artificial or animal fibres. You can find out more about our vegan yarns in this blog article.
Today, with consumers´ increasing awareness about being environmentally conscious, plant fibres are playing a bigger role.
People with sensitive skin who react to animal fibres with skin irritation have also turned to plant fibres.
From a purely technical point of view, bamboo viscose is also a synthetic fibre. In contrast to polyacrylic and polyamide, however, it consists of the rapidly renewable raw material bamboo. In terms of its ecological balance, bamboo viscose is about the same as cotton and - unlike other synthetic fibres – it is biodegradable and completely compostable.
Vegan Socks
Knitting socks is just fun: they are usually finished quickly, offer plenty of room to play with colours and patterns, and they are useful and a very popular gift idea.
In our range, you will find two yarns that we expressly recommend for socks: Pinta and Forest - these two contain animal fibres.
So, we asked ourselves the question: "Are our vegan yarns also suitable for socks?" Our curiosity led to our experiment:  #veganesockwithoutplastic.
Our Vegan Socks Test Candidates 
In our range, there are a few plant-based yarns: Cumbria, Suave, Re-Jeans and Nepal. We set out to find out whether they were suitable for knitting socks. An exciting experiment, the outcome of which truly surprised us!
The first samples were knitted in no time with the following combinations: Cumbria single stranded, Cumbria / Suave double stranded, Suave double stranded, and Suave / Nepal double stranded.
After blocking, drying and doing a touch test, we had the first results: The combination with Nepal did not make it to the next round. Despite its high cotton content, we found Nepal too rugged to knit comfortable and elastic socks with it.
The Second Round: Our Sock Knitting Team and the Knitting Test
Next, we handed the project to professionals: four experienced sock knitters: Caro, Grit, Sigrid and Nicole came on board and diligently started to knit. With the remaining three candidates, we decided to knit the Vreeni Socks by Rosa P knitted with Cumbria/Suave and the Sneakersocken by Tanja Steinbach once with Suave double stranded and once with Cumbria single stranded. Many thanks to the two designers who were kind enough to provide us with the patterns for this project.  
As a guideline, the knitters received a questionnaire regarding the knitting experience, which they carefully filled out and handed over to us for evaluation.

The Vegan Knitting Experience
In our test, we focused on the following criteria:
The knitting experience as such: How comfortable is the yarn on the needle?
Degree of satisfaction with the stitch definition, elasticity, feel quality and shape
Degree of satisfaction with the yarn or the yarn combination compared to a regular sock yarn.
In terms of touch quality, all three varieties performed well: The yarns are soft and supple. In an overall comparison, Cumbria / Suave had the edge.
Knitting was, nevertheless, challenging: The two double-stranded versions corresponded in yarn weight to about a 6-ply sock yarn - the usual pattern for 4-ply sock yarn had to be adapted.
Suave scored high regarding softness; the yarn has a light feel and is very pleasant to knit with. Cumbria single-stranded delighted knitters with its smooth surface and, overall, came closest to a regular sock yarn.
Conclusion of Our Knitting Test
All in all, after the first round, we found that our vegan yarns are technically quite suitable for socks. However, you have to be aware that due to their fibre composition and twisting, they behave slightly differently on the needles than regular sock yarns do. If you decide to try knitting with them, you will get results that are well worth seeing!
Cumbria on its own is way ahead in the knitting experience - the socks have an even and clear stitch definition. The yarn also comes closest to the usual sock yarn in terms of strength and suppleness, which the knitters rated very positively.
The second winner in the knitting experience was Suave double-stranded.  However, the experience was particularly demanding for knitters. The yarn is not very elastic, so knitting the socks, especially in the area of ​​the heel and cuff, was technically challenging. The finished socks, however, are a dream of softness!
For light summer socks like the Vreeni Socks, which would be knitted from cotton or viscose, the result with Cumbria / Suave seemed to be too thick and too warm for summer socks. The soft yarn combination was found to be very pleasant for warm winter socks or slipper socks. The airy lace pattern of the Vreeni Socks worked well for simple everyday socks.
The Wear and Tear Test
This was followed by the most exciting part of our experiment: All socks were then worn and tested in everyday life with regard to durability, shape stability, comfort and washability.
Our four knitters and two other volunteers wore the socks under everyday conditions: with and without shoes, during long walks and on the sofa. In short, they wore the socks as you would a normal pair of socks.
 The results are as follows:
The third runner-up were the Suave double stranded socks. Due to the structure of the yarn, these socks are not very elastic, which means that when worn they quickly lost their shape. After washing, they plumped back into their old shape. Socks knitted with Suave are very comfortable to wear at all times and even at high temperatures.  They are very light, and they dry very quickly after washing. Even with frequent wear, no significant tear (i.e. holes or run-through areas) could be found.
Second runner-up was the combination of Cumbria and Suave. The main criticism of some wearers was that the knitted fabric is too thick and too warm and is therefore hardly suitable for being worn with shoes in the summer. Others, on the other hand, describe a cooling effect due to the viscose content and found the socks to be very wearable despite their thickness. As slipper and sofa socks, the testers agreed that the combination is definitely a hit.
The winner of our wearing test is now clear: Cumbria single-stranded!
Cumbria socks were particularly popular as summer socks because of their cooling properties. The material turned out to be very easy to care for and stable in shape– there were a few criticisms regarding their elasticity.
Vegan Socks without Plastic - The Overall Result
This brings us to the overall evaluation of our test of vegan socks without plastic. We added up the points we collected from the knitting and wearing tests. Here are the results:
Bronze: Cumbria / Suave
Silver: Suave / Suave
Gold: Cumbria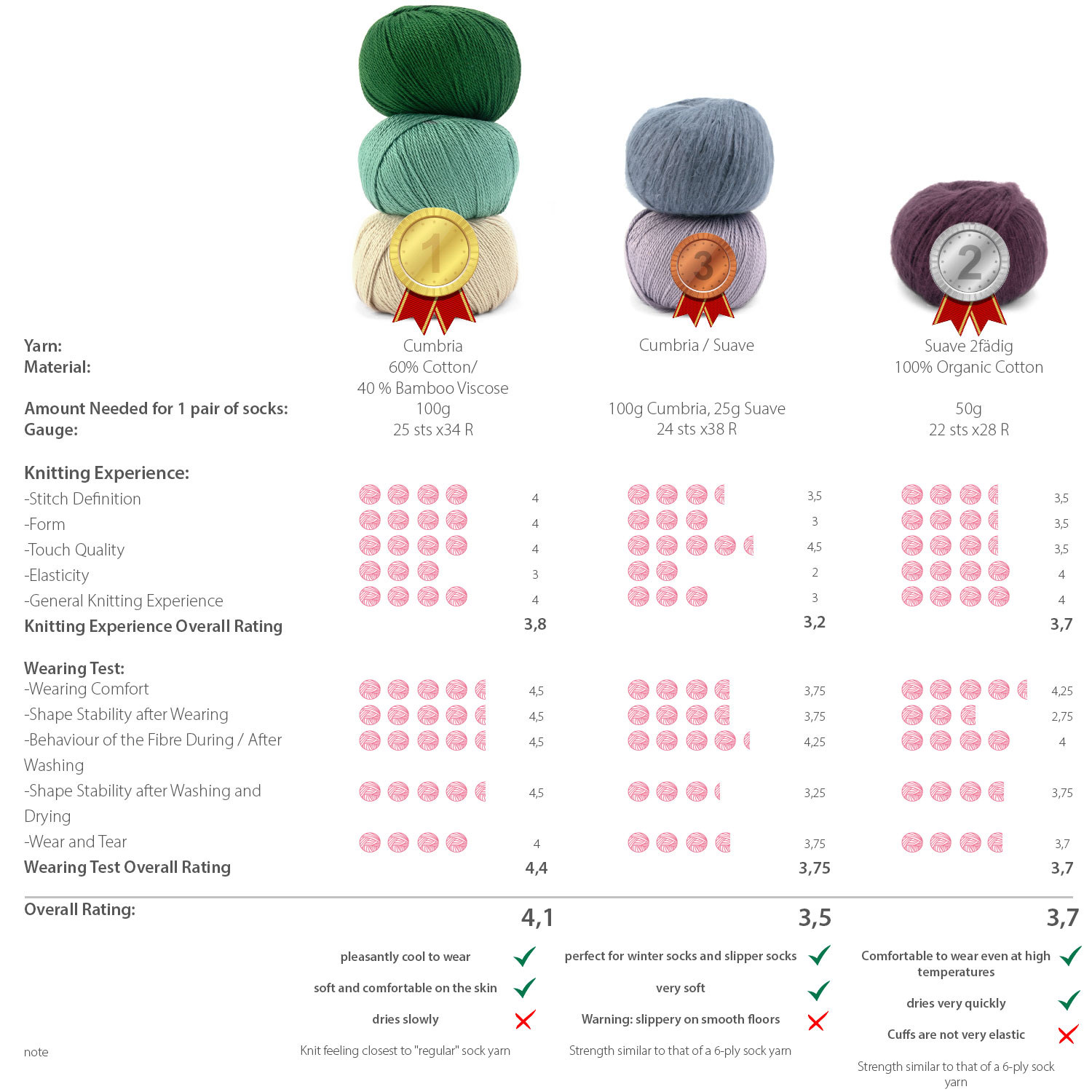 Basically, all three yarn combinations are suitable for socks. It is important that you break away from the "learned" properties of commercially available sock yarns with synthetic fibre content and knit with our vegan yarns impartially. Due to their fibre composition, the socks are simply knitted differently than with industrial yarns. The specific properties of vegan yarns have an impact on the knitting experience and the finished piece.
But different is not worse - personal preference always plays a role in the overall assessment, and this varies from one knitter to the next. 
If you compare the tested yarns with commercially available cotton of the same thickness, the following reasons speak in favour of socks made from our vegan yarns:
They are noticeably softer (especially Suave which is simply super soft and light).
They don't shrink when washed.
The socks are very comfortable to wear, easy to care for and more stable.
Further arguments for socks made from these three yarn alternatives are the aspect of sustainability and environmental compatibility:
All fibres - cotton and bamboo - come from plant-based, renewable sources, some of which even come from controlled organic cultivation.
The yarns are plastic-free. That means that no raw materials of fossil origin were used. They leave no microplastic particles in the laundry and are completely compostable - if the socks should be worn out, they are organic waste and not hazardous waste.
The yarns are free from animal hair and are therefore suitable for people with wool allergies and sensitive skin.
We are admittedly very enthusiastic about the outcome of our experiment because - as mentioned at the beginning - we started this experiment with no expectations and with great curiosity. At every single step of the way, we cheered the knitters and testers and are proud to be able to show you such positive overall results.
A big thank you to our sock knitters Grit, Caro, Nicole and Sigrid - and to the wear testers Petja, Franzi and Danny for their overall commitment and great support!